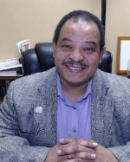 Welcome!
Hello and welcome to the online home of the Bartley-Decatur Neighborhood Center, Inc. (BDNC)
Since January 2003, the board of BDNC has worked diligently to accomplish one major goal... to restore the property located at 918 E. Calhoun, Springfield, Missouri to active service, for the benefit of children, families, and individuals living in center city Springfield, and beyond.
In 2005, with the help and guidance of former Senator Christopher "Kit" Bond, BDNC was awarded a $500,000 Economic Development Initiative grant, through the Department of Housing and Urban Development.
This grant has made a dynamic renovation of the property possible, resulting in a facility which embodies both the rich heritage of the past and the tools necessary for a success-filled future.
We invite you to browse the site and get to know us better. We are convinced that when you see what we're up to... you'll want to join us in making BDNC a place where dreams are built and a sense of community is revived and nurtured.
Thanks again for visiting today!
Mark A. Dixon, President